There's a range of packages to suit every need and budget. Expand the table to find out every last little detail.
Copper
Bronze
Silver
Gold
Platinum

SSD disk space

500MB
5GB
10GB
20GB
30GB

Data transfer

10GB
500GB
1TB
2TB
3TB

CPU cores

2
2
2
2
2

Memory / RAM

4GB
4GB
4GB
4GB
4GB

Unique Domains

1
Unlimited
Unlimited
Unlimited
Unlimited

Email accounts

5
Unlimited
Unlimited
Unlimited
Unlimited

Databases

1
Unlimited
Unlimited
Unlimited
Unlimited

Free migration

Carbon neutral

Trees planted

Node.js

Ruby

Git

Regular off-site backups

Operating system

Linux
Linux
Linux
Linux
Linux

Control panel

Plesk
Plesk
Plesk
Plesk
Plesk

Sub-domains

Domain aliases

IPv6

Optional dedicated IPv4

MySQL / MariaDB

FTP

SSH

One click app installs

Configurable PHP version

SSL Support

Let's Encrypt Free SSL

Scheduled tasks

Webmail

Spam filtering

Secure SMTP/POP3/IMAP

Email auto-responders

Email forwarders

£20/YR
including VAT

Buy

£3.50/MO

£35/YR
including VAT

Buy

£6.50/MO

£65/YR
including VAT

Buy

£9.50/MO

£95/YR
including VAT

Buy

£12.50/MO

£125/YR
including VAT

Buy
Prefer cPanel or Windows?
Our Web Hosting uses Plesk for Linux which we find is perfect for almost every website and is easier to use. That said, if you prefer cPanel or your website requires Windows web technology then we can do that too.
cPanel Web Hosting
Windows Web Hosting
Intuitive control panel
Plesk control panel provides a single intuitive interface to manage every aspect of your hosting from email addresses, to spam filtering, to FTP, and databases.
Let's Encrypt
Secure your website with SSL/TLS encryption for FREE with just a click of the mouse with Let's Encrypt support.
IPv6
Native IPv6 support is enabled by default on all shared hosting, each account gets a dedicated IPv6 address and a shared IPv4 address.
Powerful WordPress toolkit
Quickly and easily install WordPress with a single button, then manage updates, security, and plugins in one control panel.
Ruby, Node.js, and Git
Deploy applications written in Ruby and Node.js with your choice of version and support for frameworks like Rails, plus dependencies will be automatically managed. You can also manage your code versioning with built in support for Git.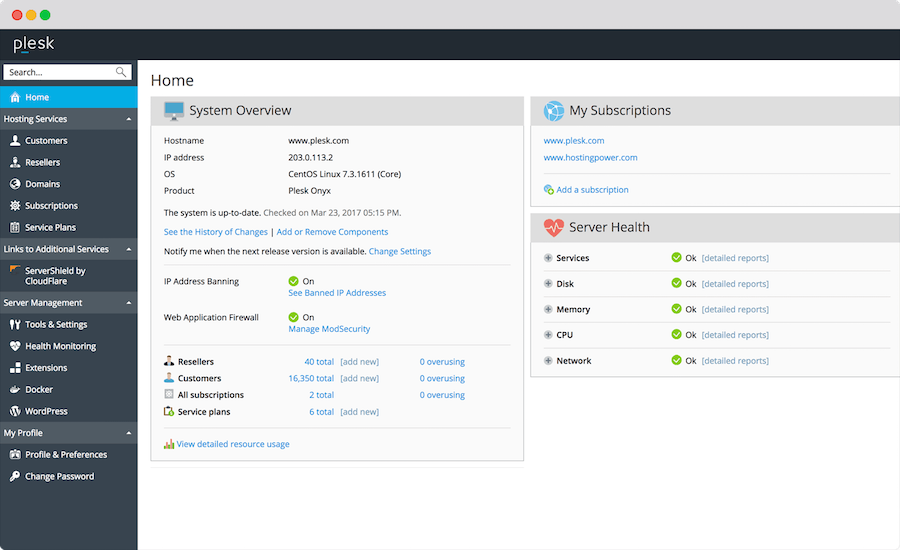 Our amazing support, for everything.
You get amazing support as standard with your service but with the addition of IT support from Freethought Services the incredible support can be extended to every aspect of your business from desktop support, to backup, to cyber security, or even fibre broadband. Amazing support for everything, from Freethought.
Learn more about Freethought Services