Stress free managed WordPress
Managing any website is almost a full time job; your WordPress website needs to be kept up to date, protected from hackers, be optimised for page speed, and then optimised some more for search engines. All this is before you even think about the content of your website which is the most important part!
We understand that you don't want to be stressed out or overwhelmed maintaining your website, with our managed WordPress hosting you can spend your time concentrating on your business and not your website, let us handle everthing else.
Whether you are looking to add some content, update an image, add a new plugin, or anything at all really; with managed WordPress you don't need to worry, whatever you need it is as simple as picking up the phone or sending us an email, we'll do the rest.
What's included?
Managed WordPress hosting is a comprehensive website hosting and support package, it includes everything your website needs to stay online and stay up to date both in terms of software and content. Here are some of the key highlights:
Our incredibly powerful ULTRA Hosting
WordPress installation or migration of an existing website
WordPress core, plugin, and theme updates
Website speed optimisation
Content management to add, edit, or remove content
Web application firewall to keep your website safe
Search engine optimisation report and guidance
Plugin installation and configuration
Offsite backups should the worst happen
Minor theme customisations

With every managed WordPress order we'll plant 25 trees

What are the limits?
We truly want your website to be a stress free part of your business, this includes not worrying about how many hours of work you have left this month or how many tasks or edits you're allowed. We don't have any limits on our management, we just ask that you don't take liberties. As a rule of thumb if we can complete your request in around 30 minutes then it's included as part of the service.
There are some limits on the hosting itself mind, with our managed WordPress hosting we are bundling in our Bronze ULTRA Hosting account which comes with 25GB disk space and 0.5TB of data transfer. Once you exceed those limits we would charge the difference to upgrade which would be around an extra £20/month (inc VAT).
Need a new website?
If you don't currently have a website but like the sound of our stress free hosting then we can help you out by building you an entirely new website from scratch for a one off cost of £200 (inc VAT) when you also take out our managed WordPress hosting.
With our website building service we'll get you setup with a basic website (Think 4 or 5 small'ish pages) using an off the shelf WordPress theme of your choice and put all the graphics and text you need in there for you. We'd stress that we're not designers though but we know lots of them so if you'd rather get something bespoke just to your needs then we can recommend a wide range of web designers for every budget, just ask.
Why Freethought managed WordPress hosting?
There are a lot of "managed" WordPress hosting solutions out there, some are more managed than others though. The large majority of so-called managed WordPress hosting packages are in fact just automated installation and updates, but they don't help with content management, or don't have the experience to fine tune your website for maximum speed or search engine performance.
With Freethought managed WordPress hosting you are getting an experienced UK based hosting provider with 5 star ratings that is certified carbon neutral and ethical, and holds ISO 9001 and 270001 certifications for maximum peace of mind.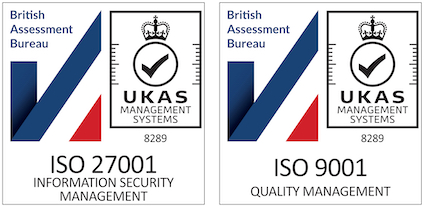 Freethought holds ISO 9001 and 27001 certification for quality management and information security.
Our amazing support, for everything.
You get amazing support as standard with your service but with the addition of IT support from Freethought Services the incredible support can be extended to every aspect of your business from desktop support, to backup, to cyber security, or even fibre broadband. Amazing support for everything, from Freethought.
Learn more about Freethought Services