Register .llyw.cymru domain
Wales is unique in the United Kingdom in that it has two equivalent domains in both English and Welsh, in addition to .gov.wales you can also register a Welsh language .llyw.cymru domain. The requirements for both are the same and you can register one of each if you prefer for provision of an English and a Welsh language website. There are strict requirements for what organisations can register .llyw.cymru domains but don't worry, we have a wealth of experience assisting governments and the public sector with registering and managing their government domains and will be able to assist you every step of the way. Also, for your peace of mind we are entirely UK based, are 100% carbon neutral, and we hold ISO 9001 and 27001 certification so you know you are selecting a registrar with stringent quality and security standards.
Registering a .llyw.cymru domain costs £120 every two years including VAT, we suggest you read through the below information and then give us a call on 03300 882130 or start a live chat session below to get started. Once you've placed your order your new domain is submitted for approval and normally operational within 5 working days, although often much quicker.
You can read the full government guidance on .gov.wales as well as .llyw.cymru domains in this PDF document published by the Welsh government.
Eligibility
As with .gov.wales any part of the Welsh government can register a .llyw.cymru domain such as Welsh government agencies, non-ministerial departments, Welsh government sponsored bodies, Welsh comissions and inquiries, and Welsh government wholly-owned subsidiary companies. In addition inspectorates, statutory offices, national bodies, unitary authorities, community and town councils, fire and rescue services, national parks, and join authorities, committees, and partnership bodies.
Registrants can own one .llyw.cymru and one .gov.wales domain. Full eligibility details can be found in the guidance published in this PDF document published by the Welsh government.
Naming convention
A .llyw.cymru domain name must reflect the legal name of the organisation registering the name, it should be chosen to minimise confusion with other organisations and ensure clarity of geographic remit, finally the domain must be as "sayable" as possible, propositions and conjunctions such as "and" can be stripped out for simplicity.
Domains should contain only standard ASCII characters and/or Welsh language characters, must not conflict with internet protocols (HTTP, FTP etc), mustn't include abbreviations or acronyms (Unless in common use), exceed 64 characters in length, or be fewer than 3 characters in length.
Welsh and English
Wales is unique in the United Kingdom in that it has a separate domain entirely for Welsh language with .llyw.cymru, for example Barry Town Council might register barrytowncouncil.gov.wales as well as cyngorcymunedllansadwrn.llyw.cymru. There is no requirement to register two separate domains for the provision of Welsh and English language websites but it is certainly something to consider.
A .gov.wales domain can also be registered at the same time as your .llyw.cymru domain, just let us know when you get in touch. The pricing is exactly the same as .llyw.cymru at £120 every 2 years including VAT.
DNS hosting
All domains registered through Freethought include intuitive and easy to use DNS hosting utilising our geographically diverse redundant name servers, if you'd like more information about our DNS hosting then give us a call on 03300 882130 and we'd be happy to chat.
Transfer .llyw.cymru domain
If you currently own a .llyw.crymu or .gov.wales domain and would like to transfer that domain so that future renewals and support are handled by Freethought, or so that you can utilise our free DNS hosting, then transferring your domain easy and free. Get in touch with us on 03300 882130 or live chat to start the process.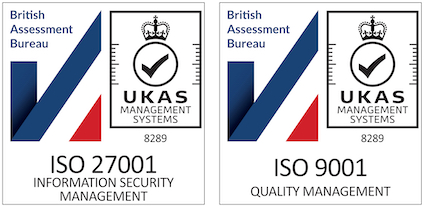 Freethought holds ISO 9001 and 27001 certification for quality management and information security.