Freethought is thrilled to announce that we are now certified to ISO 9001 and ISO 27001 standards for quality management and information security.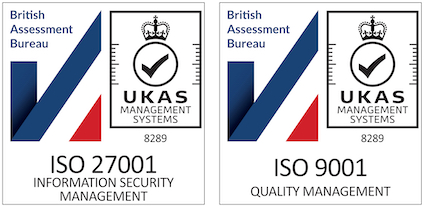 This doesn't mean that anything has changed or is necessarily going to change, however the amazing customer care, quality of service and the high level of security that we've always provided, have now been formalised, throughly assessed by external auditors, and certified against two internationally recognised rigorous standards.
Read more...
We had the pleasure of sitting down with Hosting Advice in June to share our story and highlight some of the things that set Freethought apart from our competitors.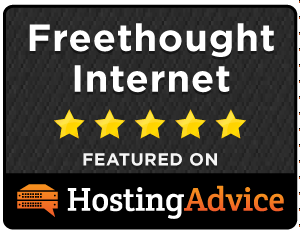 In the article Hosting Advice really home in on the best bits about us, from our origins as a family hosting brand all the way through to how those family values still drive how we do business today.
Articles like this are great, they dive into what makes us tick and share it with the world, our customers already know what it's like to enjoy our service, but this article shares that knowledge with a wide audience. As the article says, we don't invest in advertising and prefer to let our service speak for itself, and this latest articles from Hosting Advice shares all the best reasons why if we're not already, Freethought should be your host.
Check out the article and share it with your friends at https://www.hostingadvice.com/blog/freethought-internet-grows-uk-hosting-by-building-custom-solutions/
Read more...
Over the past few weeks, users around the world have been bombarded with endless updates to privacy policies and requests to opt-in to receiving emails as part of the privacy apocalypse stemming from the implementation of the GDPR (General Data Protection Regulation) throughout the European Union on May 25th. We ourselves had to update our privacy policy as well as updating our terms and conditions of service in order to reflect the rights of our customers and our legal obligations as a business.
Read more...
Whatever kind of website you run, be it a community forum, a blog, or an online store, speed is very important. This is particularly true for eCommerce sites where studies show that for every 1 second which visitors spend waiting for your site to load, your conversion rate decreases by 16%! For an online store taking £100,000 worth of orders per day, that extra 1 second delay could cost your business £2.5 million in a year!
For any website, 40% of visitors will give up and go elsewhere if a page takes more than 3 seconds to load, and 47% expect a website to load in under 2 seconds. As a result, Google and other search engines now including page speed as a factor in their ranking algorithms, so a slower website could mean that you your competitors appear ahead of you in search results.
Pages loading slowly ultimately means less visitor engagement; whether it's less subscribers to your blog, less interaction in your online forum, or fewer sales with your online store - a slow website is bad news. We host thousands of websites and we understand a thing or two about making websites go fast, in fact we've become a little obsessed at times running website speed tests to try and shave those last few milliseconds off the loading time!
To help you make your website super fast, here are our top 6 things you need to do to improve your website loading time.
Read more...
When second level UK domains became available in June 2014, for the first time UK registrants were able to own a domain ending in just .uk rather than .co.uk or similar (third level domains), much the same way as countries like Ireland (.ie), France (.fr), Germany (.de), and countless others have always done it.
Read more...